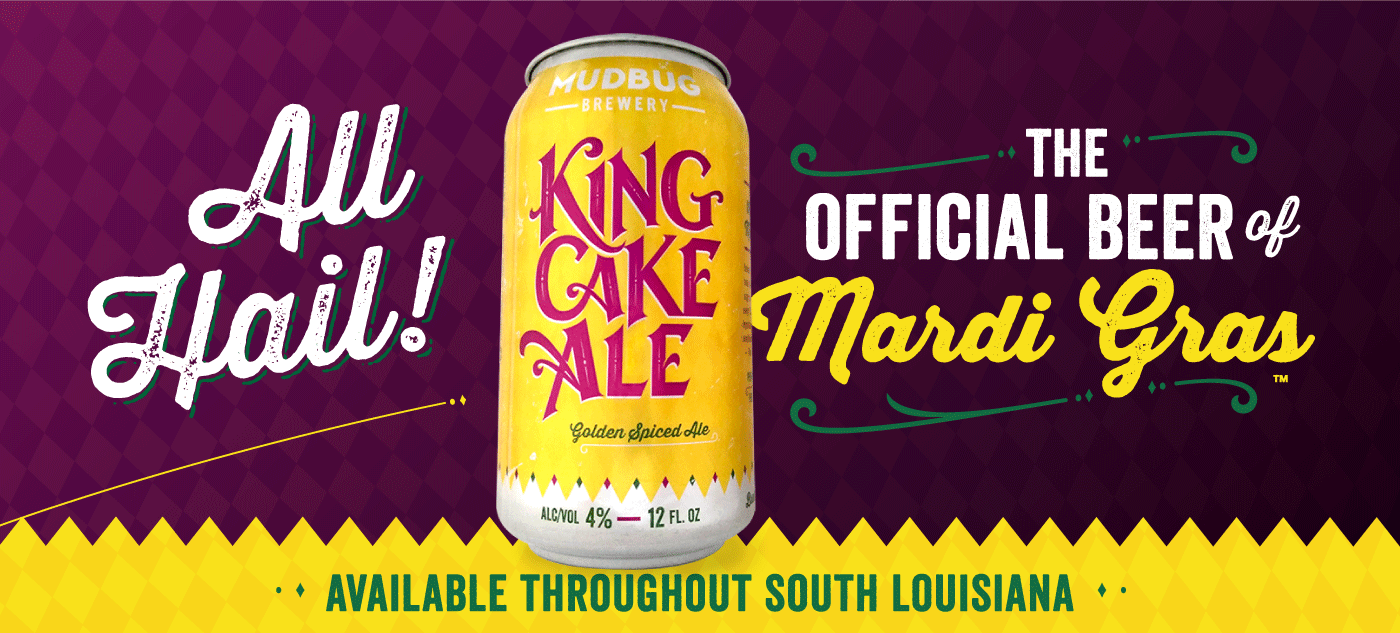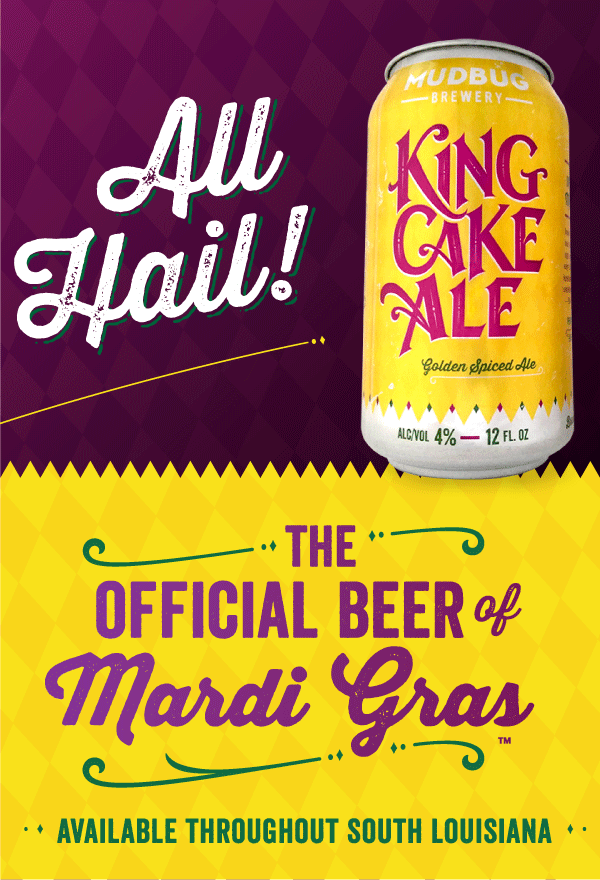 WELCOME TO
MUDBUG BREWERY
Proudly of Thibodaux, Louisiana, Mudbug Brewery was founded in 2011 out of a passion for good beer, good fun, and Cajun ways. Today, Mudbug continues to go strong with five flagship beers and a host of unique specialties aimed at celebrating and sharing everything Cajun.
What's a "Mudbug"?
In Louisiana, you can find small mud dwellings in wet, damp areas that look oddly like little skyscrapers all over the place. These are the homes of crawfish. And as such, many Louisianians have endearingly dubbed these little critters, "mudbugs".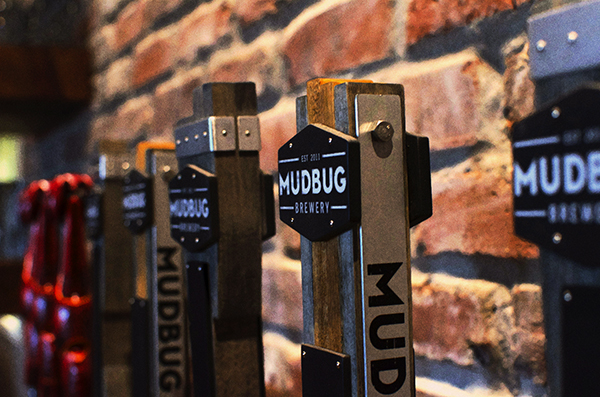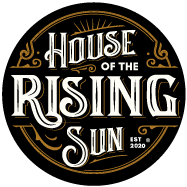 House of the Rising Sun has taken over brewery operations at Mudbug to continue brewing the Mudbug classics while creating new HotRS, highly drinkable yet edgy beers.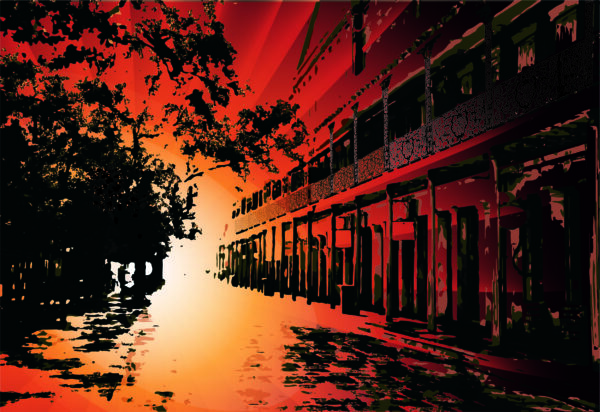 Octoberfest
Octoberfest at the brewery every Saturday starting September 17 through the month of October. Come by for one (or more) of our Octoberfest beers and get a free bavarian style pretzel with your first Octoberfest beer.
Private Events at the Brewery
Call us on the brewery number or message us on facebook to book the tap room for a private event
Check back soon for new event announcements
EXTRA EXTENDED HOURS in the TAP ROOM
It's football season and we're open for the game!
Saturdays starting at 1:00.
Sundays starting at 11:30.
FOOD TRUCK at the BREWERY
Sister's Soul Food is at the brewery whenever the tap room is open. Get some delicious food with our Delicious Mudbug and House of the Rising Sun Beers
BEER COCKTAILS
Looking for something different. Try one of our beer cocktails.
Now mixing:
Michelada
BeerMosa
Creamsicle
Bleu Sunrise

New on tap: HotRS SOUR DAUX
Come by the Tap Room and try our line of flavored sours.
THE TAPROOM
Come by, say hey, and have a pint of Cajun beer.
Our taproom features fifteen+ taps serving flagship beers, seasonals, and unique brews from the brewmaster himself. You'll find a whole lot of merch available too with new stuff on shelves regularly. Not only that, but we host plenty of events from food & music concerts to sports parties. Join us on facebook to keep up with what's going on. While you're there, ask for a tour of the brewhouse to see some Cajun beer in the making.
Hours
THURS – FRI 5 – 10
SAT 1 – 10
SUN 11:30 – 6
MON – WED CLOSED

Brewed with vanilla, cinnamon, and milk sugar, we've taken the flavor of every Cajun's favorite treat, the legendary king cake, and created something truly special…The Perfect Golden Spiced Ale. Perfect for the season. Perfect all year long.
[3.9% ABV, 11 IBU]
Rise n' Shine ANYTIME. Our take on a New Orleans classic. Chocolate and black malts create a roasted note that pairs perfectly with – what else? – cold-brewed Louisiana coffee, while milk sugar adds the creamy, sweet character to this stout. One sip of our coffee-laden stout will have you wondering why it took this long for a malted beer version of the French Quarter favorite to emerge.
[6.5% ABV, 35 IBU]
Mudbug's crisp IPA honors the great gulf waterway that winds across all of Cajun Country and links industries from Texas to Florida. That's a lot of hardworking taste buds en route. Ones that could use a balance of citrus flavors and hoppy bitterness without the bite. So, Mudbug brewed the perfect Cajun companion.
[4.9% ABV, 38 IBU]
Launched by German brewing traditions, Pelican Pilsner is brought to life using only grain water yeast, and hops. Incredibly smooth yet surprisingly edgy – the perfect brew to tame the sweltering heat of a south Louisiana summer.
[5.5% ABV, 32 IBU]
"Swamp Sneakers". "Dulac Slippers". "Breaux Bridge Pumps". A pair of white rubber boots goes by many names in Louisiana. From the boat to the festival and everything in between, shrimpers and fisherman swear by them; Cajuns live by them. Here's to the hard workers and life's enjoyers. A smooth, relaxing beverage after the long day is done.
[4.5% ABV, 20 IBU]
House of the Rising Sun
House Ale
When you're on the path to the Rising Sun, this will get you to the house quicker. A smooth, easy drinking golden ale with a hint of fruity notes. Follow the Rising Sun!
[5.9% ABV, 24 IBU]
House of the Rising Sun
House Amber
A highly drinkable, well balanced amber ale with a real head'n back to New Orleans vibe. Great for spending your life in the House of the Rising Sun. After all, our house is your house.
[6.4% ABV, 25 IBU]
House of the Rising Sun
Trunk Porter
This surprisingly smooth, yet robust, traditional style porter is easy drinking whether you're on the go or taking it easy in the big easy.
[5.8% ABV, 21 IBU]
House of the Rising Sun
What I've Done Wheat
Give the wheat a try so you know what you've done. This traditional Bavarian style wheat with the right amount of clove and banana make for a truly tasty and refreshing beverage.
[5.1% ABV, 21 IBU]
House of the Rising Sun
On A Drunk Imperial Stout
Dark and robust, but oh so smooth; you'll have to have another. The only way you'll be satisfied is when you're On a Drunk with House of the Rising Sun imperial stout.
[9.6% ABV, 65 IBU]
House of the Rising Sun
Ruin of Many Double IPA
In the House of the Rising Sun there is a juicy, hazy, double IPA. It's been the Ruin of Many a poor boy. After the first sip, you'll know you're one.
[7.9% ABV, 47 IBU]
House of the Rising Sun
Strawberry Sunrise Lager
The rising sun refreshes you as you start the day. Strawberry Sunrise refreshes you anytime during the day. With just the right bitter – sweet balance of the freshest strawberries and classic hops, you'll look forward to the next sunrise and the next Strawberry Sunrise.
[5.1% ABV, 18 IBU]

House of the Rising Sun
House Lager
A full flavored Munich style lager with the right malt/hop balance for the perfect anytime refreshment.
[5.7% ABV, 18 IBU]

House of the Rising Sun
Cream Ale
Pouring from a nitro tap, this extra-creamy cream ale has a light body and smooth mouthfeel. Cane sugar and a lower fermentation temperature deliver the right amount of bitterness with just a hint of fruity notes.
[5.3% ABV, 13 IBU]

House of the Rising Sun
Raspberry Sour Daux
A little sour raspberry goes a long way. Come have some cher!
[5.1% ABV, 21 IBU]

House of the Rising Sun
Oktoberfest
A deep amber märzen lager, smooth and malty with a clean finish, gives you the real Oktoberfest experience way down the bayou!
[6.8% ABV, 25 IBU]

1878 LA-3185,
THIBODAUX, LA 70301
(985) 492-1610